Welcome to MPN support. How can we help?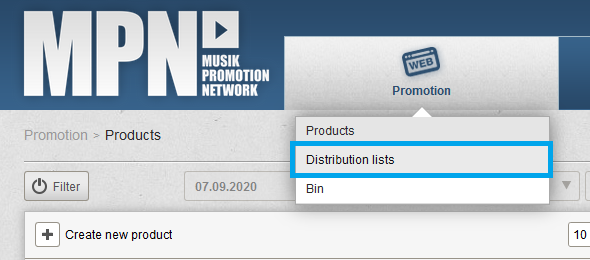 With a sampling group (or distribution list) you can save your personal choice of editors, whom you wish to sample, for later campaigns. Thus you have to take the time out to choose the editors. It makes sense, of course, to continually adapt the sampling group with regard to new editors that have been added to MPN.
Sampling groups can be processed in two ways. One way is to set the sampling group up in its own menu list under "Promotion". The other way is to work on the sampling group when you are actually working with the product.
To establish your own sampling group please follow these instructions:
Open the addressee-selection.
The "plus" at sampling group opens a new field.
Enter here a descriptive name for yourself (and your colleagues) e.g. "Radio Download").
Select the desired editor.
Save.
joint work
The sampling group that you have set up is also visible to your colleagues (of the same industry). This facilitates easy joint work on MPN.
complete medium
When you have a complete medium to add into your sampling group, then institutions added later from this medium may later raise the costs for the sampling group. Should you wish to avoid this, then please choose the institutions separately, thus avoiding additional costs.