Welcome to MPN support. How can we help?
You can place the track list under the menu item "Track data". After clicking on "Track data" a new page opens. Via "Insert track" you can place a track list of any length.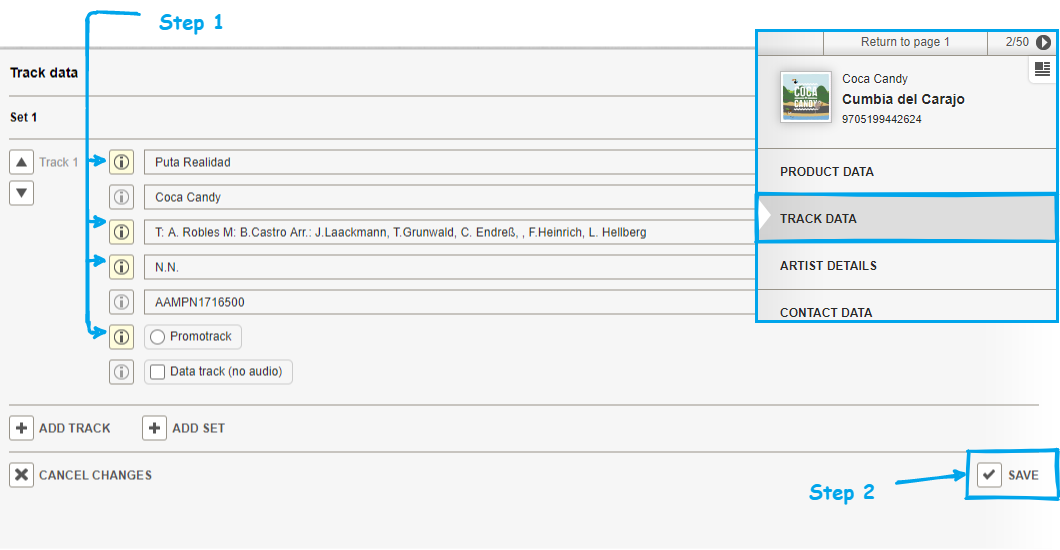 As you see, the artist's name from already placed products is taken on. In the track list please fill out at least all the fields marked with a yellow "i" (Step 1):
Title
Author
Publisher
Promo track – The promo track is the one that is played first when the media partner clicks "Play" in product overview.
Data track – When no audio is available (see instructions).
If your product is comprised of a number of discs, through "Insert sets" you can insert other sets and place other tracks.
ISRC
The
International Standard Recording Code (ISRC)
is an embedded twelve-figure digital identifier, inaudible in the sub-code of an audio track (e.g.: DEA239810012) which clearly identifies this track. The ISRC can be used for the licensing process, for instance, between broadcasting stations and labels as a track has clearly been allocated to a company. The initial ISRC key given can be applied for at the Bundesverband Musikindustrie e.V.
If no ISRC is given in a track list, a dummy ISRC (MPN…) will be inserted. In as much as an ISRC is not necessarily required. But it is certainly advisable, overall, at least to check for the application of an initial ISRC key.
Data Track
The labeling as data track is useful if there is no audio data at hand for the track, because the track is, for instance, a video track of a CD + DVD video. Here one would still really like to enter the complete tracking list, so the editors do not expect audio, one can avoid this by labeling it as a data track.