Welcome to MPN support. How can we help?
If you have a video data that is smaller than 2 GB and they are in these common formats (MPEG4, MPV, AVI, WMV, OGG, MP4) you can upload them immediately into MPN. Proceed as follows:
Open the menu "Video" and select the tab "Video data".
Enter the title and information that should represent the video and save the page.
Pull the video data out of the drag and drop surface or click onto the upload surface and select the relevant data on your hard disc.
The upload of the video data will take some time. When the big green tick appears you may continue work with MPN as usual. Depending on the size of the video data it may well be that MPN still renders the video in the background in completing the stream for MPN. The small turning wheel to the right of the upload cloud indicates this. You can continue work with MPN as MPN ends the rendering automatically.
Should you upload a screen shot (JPG 1920 x 1080 pixels) of the video, this will be the thumbnail/preview image shown on the media partner's page.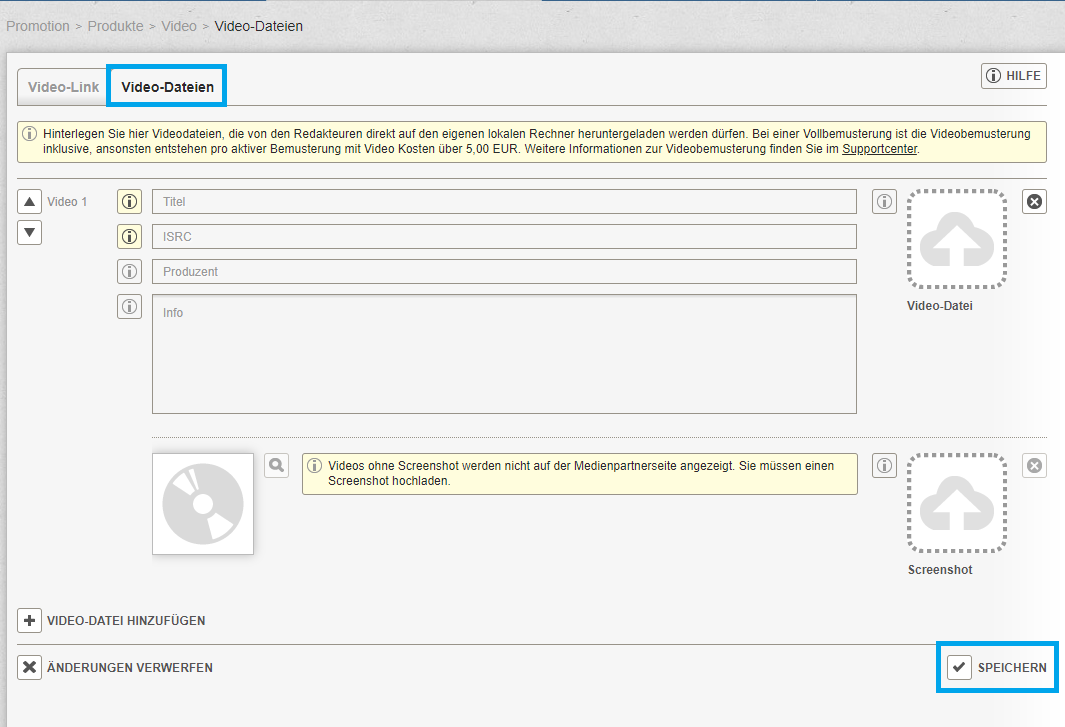 You can load as many video data as you wish in this way. Please take care that the total size does not exceed 2GB. To check how your product is displayed on the editor's page, click above right on the view button beside your product. Should it be wished for a video not to be displayed then take out the tick beside "Display video on media partner page".
In sampling you can decide whether the editor may stream or also download the title. By contrast with audio data the editors download video data directly onto their own computers.