Welcome to MPN support. How can we help?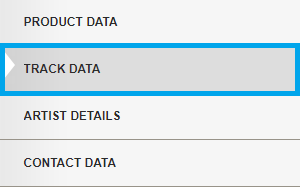 Once the product is placed and saved, on the right bar under product presentation other menu items appear, one of which is "Track data".
You can place and save individual track titles here.
For a trouble-free process send the audio data beforehand as a CD (it is feasible to send it as a burnt CD with non-compressed audio data in wave format) to Acamar. A web upload is also possible at Acamar.
Erfassung von Audios
Acamar
is our partner, who, among other things, is specialized in the compilation of audio data.
Acamar receives the audio carrier of MPN products and updates the audio data into the system. Furthermore, if desired, Acamar can scan the cover and booklet pictures and upload them into the system.
Further information on Acamar and what you should look out for regarding shipping is to be found at Acamar.
Was this article helpful?
0 out Of 5 Stars
| | | |
| --- | --- | --- |
| 5 Stars | | 0% |
| 4 Stars | | 0% |
| 3 Stars | | 0% |
| 2 Stars | | 0% |
| 1 Stars | | 0% |