Welcome to MPN support. How can we help?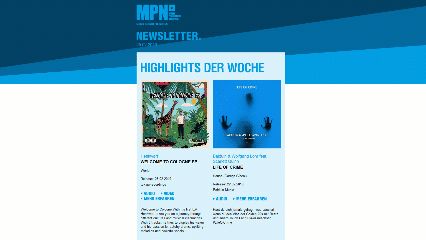 The Musik Promotion Newsletter is sent weekly, usually Mondays, by Email to all editors who have registered for the Newsletter (already 2,500 editors in Sept. 2017). The editors can click on the products presented in the Newsletter and get them inserted directly onto the relevant product detail page in their MPN account.
Since September 2017 the MPN Newsletter has been offered in three different categories when booking (see price list). The standard booking comprises the existing booking possibilities. The product will be illustrated in the MPN Newsletter comprising the following information:
Cover illustration
Artist's name
Product title
Release date
Genre information
Label name
Audio-/Video-Play-Button (if applicable)
Upon booking a premier packet, the product will be listed directly in the visible areas of the MPN Newsletter. In contrast to standard booking the cover is given a larger presentation and must include a promo text with a maximum of 140 characters A premier placement guarantees the full attention of the reader.
A preview placement can be booked for each product with both the standard and premium packet. Here the presentation of the product corresponds to that of the standard booking. Booking of the preview means the product will be placed in the following Newsletter appearing as premium or standard and even then is only available in the sampling. In so doing the reader should already be made aware of the product which is to appear in the next few weeks.
Cancellation
After booking a standard placement an upgrade to a premium placement is possible if they are not already booked out. The cancellation of a booking is only possible through the MPN Team.
Opening rate
The opening rate of the MPN Newsletter is well above average. More than half of the recipients notice the letter and open it. Even products that have already been in sampling for a long time obtain further interest.